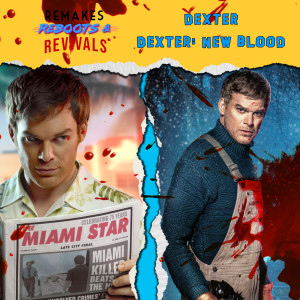 Thursday Dec 09, 2021
Dexter & Dexter: New Blood - Justice for LaGuerta. Justice for Deb. Justice for Rita. Every woman except Lumen.
This week, Rolando pops off on his love-hate relationship with Showtime's series, "Dexter." Nicole plays devil's advocate for some of the decisions made on the show's initial 8-season run. What was the appeal of this series? And why was the series finale hated by so many?
Then, the two discuss the new Showtime revival, "Dexter: New Blood." The series seems to be on a course to correct the sins of the past. But will it fall into the same tropes that made the original show so cringey? Listen to find out.
FOLLOW US:
Be sure to follow us on social media for news, polls, and fun behind the scenes content.
FACEBOOK: facebook.com/remakesrebootsrevivals
INSTAGRAM: instagram.com/remakesrebootsrevivals
YOUTUBE: https://www.youtube.com/channel/UCEw7r_fZuVfxLNo3uEwlPJQ
And we always want to hear from you! Email us at remakesrebootsrevivals@gmail.com