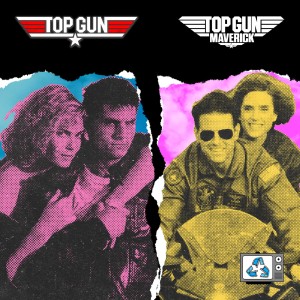 Thursday Jun 02, 2022
Top Gun & Top Gun Maverick - The volley ball scene is not homoerotic. It's homosexual.
Rolando and Nicole kick off Pride Month by covering the 1980's classic "Top Gun." What is it about this film, starring Tom Cruise, that made it such a pop-culture darling? Is it a queer film or queer-coded one?
Then they turn their attention to the box-office smash, "Top Gun Maverick." Over a decade in the making, the film has done something few non-superhero films have done: get older generations back into theaters. What is the appeal of the sequel? And, does Tom Cruise still got "it?"
Listen to find out.
Celebrate Pride w/ Rolando & Nicole
Celebrate PRIDE with a full day of LGBTQIA+ programming!
12-5pm: PRIDE IN THE PASSAGEWAY Orgs & vendors
4-5pm: WINE & CHEESE MIXER
5-6pm: QUEER CINEMA by Thomas Edison Film Festival
Show Notes:
The Top Gun Volleyball Scene Is Not Homoerotic. It Is Homosexual. - Link
Top Gun Star Kelly McGillis Breaks Silence on Not Returning for Sequel (Exclusive) - Link
Follow Us!
Be sure to follow us on social media for news, polls, and fun behind the scenes content.
FACEBOOK: facebook.com/remakesrebootsrevivals
INSTAGRAM: instagram.com/remakesrebootsrevivals
YOUTUBE: https://www.youtube.com/channel/UCEw7r_fZuVfxLNo3uEwlPJQ 
And we always want to hear from you! Email us at remakesrebootsrevivals@gmail.com