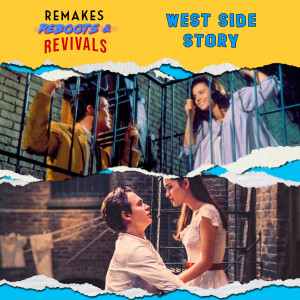 Thursday Dec 16, 2021
West Side Story - Who knew the fresh take for this musical would be brought to us by a 75-year old, white director?
Tonight, tonight won't be just any night...
And that's because we'll be covering the hotly anticipated, critically lauded remake, "West Side Story." Directed by Steven Spielberg, the film offers a fresh update on the 1961 film beloved by Rolando, Nicole and Eddie.
This episode is a long one. And we cover a lot. Film history. Brown face. And Spielberg's deliberate choice to omit subtitles. How do the two films handle the story of Maria and Tony? And how do the musical numbers compare? Listen to find out.
FOLLOW US:
Be sure to follow us on social media for news, polls, and fun behind the scenes content.
FACEBOOK: facebook.com/remakesrebootsrevivals
INSTAGRAM: instagram.com/remakesrebootsrevivals
YOUTUBE: https://www.youtube.com/channel/UCEw7r_fZuVfxLNo3uEwlPJQ 
And we always want to hear from you! Email us at remakesrebootsrevivals@gmail.com